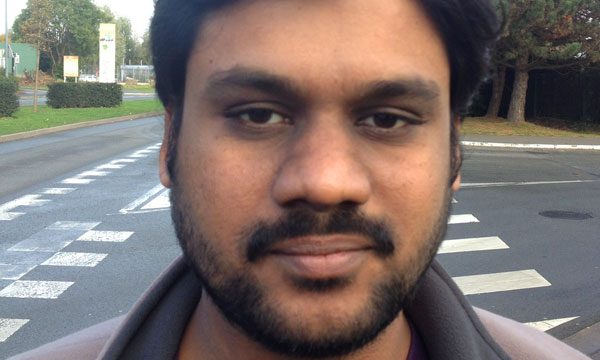 Portrait of an Indian post-doc at the University of Limoges !
Could you introduce yourself?
I am Ragavendran Sivakumarasamy from Krishnagiri, TamilNadu, India. I am working as a post-doctoral researcher at XLIM Research Institute. My research and working interest lies in the area of microfluidics and its application.
When did you arrive in Limoges and for how long are you going be here?
I arrived in Limoges on 29 November 2016 and I will be here till May 2018.
Do you live with your family in Limoges?
I do live with my family here in Limoges.
Before your arrival: have you been in touch with the International Welcome office? What type of support did the international office bring to you?
I have been in good touch with the International office colleagues prior to two months before my arrival in Limoges. They helped me in finding the apartment for my family stay in Limoges and gave me prompt reply to my entire questionnaire in all my emails.
Once in Limoges: did the International Welcome office help you with your administrative procedures? And how?
After coming to Limoges, the International office helped me with all my administrative procedures such as getting me a bus pass to go around the town, registering with CAF and CPAM, guiding me to open a bank account, getting me an immediate appointment with prefecture for my carte de sejour, finding me English speaking general doctors which are very primary things that one should undergo. This made me so easy to live with my family in Limoges.
How is going your integration in Limoges?
Of course, school education in France is very good from my point of view.  I got place in school for my son immediately on the same day of submission of application with Mairie. To entertain ourselves and spend times we go around town by exploring parks, churches, shopping malls, etc., during weekends. We had first visit taking one day tour to Parc Zoo du Reynou after coming to Limoges. The Zoo was really nice with lots of things to see and we become like children in front of all these animals. From my personal experience, I would say the Parc with a very beautiful diversity. The Limoges city is not too big, but it's quiet calm, highly secured and beautiful place to live with family.
From your point of view about your experience from India to Limoges, what kind of advice would you give to researchers who would like to come and work at the University of Limoges?
Limoges is a city situated in south-west central part of France, and it is well connected by transports. We have direct connection from Paris Austerlitz train station to reach Limoges and the nearest airport is Limoges-Bellegarde Airport. It's possible to reach Limoges by train or by bus or by flight and I would say train would be more convenient and reasonably good. I would say doing research in XLIM of Limoges University is simply good that will direct you to specific field of research to broaden your knowledge. The lab is well established with many scientific instruments and cleanroom facility for researchers (PhD, Post-docs) to carry out projects in any discipline area. I personally feel somewhat like getting industrial experience working in XLIM.