He is engineer from the "Ecole Nationale Supérieure de Céramique Industrielle" (ENSCI, Limoges). He completed his PhD at the University of Limoges in 1992 in the field of Ceramic Processes and Surface Treatments.
He is Professor of Physical Chemistry and Materials Chemistry at the University of Limoges since 2003. He was head of the department of chemistry of the Faculty of Sciences and Technics from 2004 to 2009 and he is currently head of the "Institute of Processes Applied to Materials" of the University of Limoges.
He is the leader of research team "Bioceramics" at SPCTS Laboratory since 2004. This pluridisciplinary group gathers researchers, specialized in materials sciences, pharmacy and surgery, who work on calcium phosphate based ceramics for bone tissue engineering. The activity includes the synthesis of specific powders (dydroxyapatite, carbonated or silicon substituted apatite, tricalcium phosphate, BCP) the shaping and sintering processes of bioceramics, their functionalization by active biomolecules (proteins, growth factors, drug substances…) and the evaluation of their in vitro and in vivo behaviour.
Lecture 5 -Tuesday 16th June – 14:00 – 15:15
Additive manufacturing by (micro)stereolithography of on-demand bioceramics for bone tissue engineering.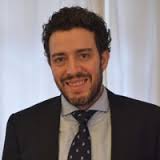 Germán Esteban Muñiz, Senior Chemical Engineer, worked for a decade in water treatment, hydraulic infrastructures and discrete and process manufacturing before joining the European Commission in 2011. He works as Programme Officer at DG Research and Innovation at the Key Enabling Technologies (KETs) Directorate.
He has managed over €200 million in FP7 EU projects and is an active player in the Horizon 2020 Public-Private Partnerships of Factories of the Future (FoF) and Sustainable Process Industry through Resource and Energy Efficiency (SPIRE).
Under H2020, he works in the KETs at the Industrial Leadership pillar and contributes to the Societal Challenge of Climate Action, Resource Efficiency and Raw Materials under the European Innovation Partnership on Raw Materials (EIP RM).
Mr. Esteban is also the EC contact point and responsible for the Additive Manufacturing (AM) Platform, which has recently launched its Strategic Research Agenda (SRA) 2014-2020, highlighting priority areas for future development and the roadmap for AM standardization.
RoundTable – Tuesday 16th June – 16:15 – 18:00
"3D-Print your future: just think and produce"